"Žuvinė"
Address:  Didžioji str. 31, Vilnius
Located on very heart of Old Town - only fish restaurant in Vilnius. "Žuvinė" offers numerous kind of dishes from fish and for wine lovers offers wide assortment of wines.
Working hours: Mon – Sat 11:00 – 00:00, Sun 11:00 – 22:00. Capacity: 70. Halls: 3
---
" Medininkai"
Address:  Aušros Vartų str. 8, Vilnius

MEDININKAI is located right in the heart of Vilnius Old Town and has a privilege of 16th century courtyard offering it's   guests a pleasure of lunching or dining outdoors in the pleasant atmosphere of summery ancient Vilnius.Restaurant MEDININKAI today follows the tradition of offering exceptional international cuisine, as well as a number of Lithuanian masterpieces, first-class service in surroundings of refined elegance and impeccable hospitality. The excellent cuisine together with a high class service will leave you a memorable experience.
Working hours: Mon – Sun – 11:00 – 23:00. Capacity: 60. Halls: 4
---
" Lokys"
Address:  Stiklių str. 8/10, Vilnius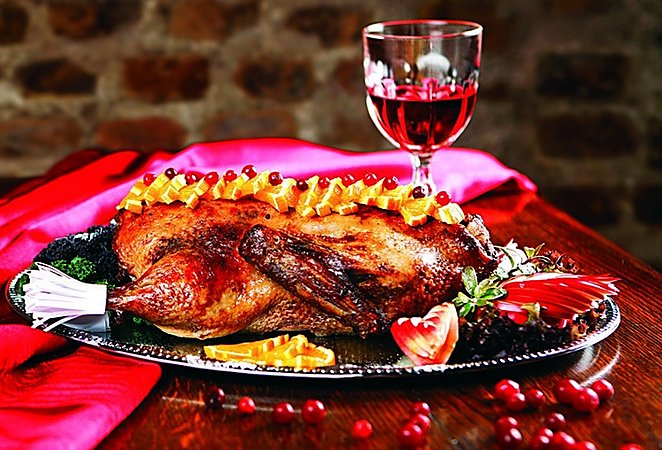 Restaurant "Lokys" is one of the oldest restaurants in Vilnius, located in the olden merchant's house in Stiklių Street. The restaurant cellars, decorated with hunting trophies, remind us of 15th century. In addition to attentive service, game roasts made according to traditional recipes and medieval entertainment help us to create a unique hospitality atmosphere for every customer. The restaurant Lokys offers its guests such dainties as "Boar-meat roast with cowberries and sweet pear, praised by Grand Duke Gediminas", "Venison meat roasts with boletus and crispy-fried vegetables", "Quail with blackberries sauce, loved by charming Lithuanian ladies".
Working hours: Mon  – Sun  12:00 – 00:00. Capacity: 160. Halls: 7. Capacity outside: 70
---
" Prie Katedros"
Address:  Gediminas Avenue 5, Vilnius

This cellar restaurant on the main street of Vilnius makes its own beer using honey, and one way or another adds either of the ingredients into the food it serves. Educational classes are organized for beer lovers. During the class the guests are introduced with the beer production session and get the opportunity to taste all sorts of beer that are produced in this little restaurant factory.
Working hours: Mon- Wed 11:00 – 24:00,Thu  11:00 – 01:00,Fri – 11:00 – 02:00 Sat: 12:00 – 02:00.
Sun – 12:00 – 23:00 Capacity: 96.
---
" Belmontas"
Address:  Belmontas str. 1, Vilnius
The restaurant offers traditional and European cuisine. The atmosphere is traditional with authentic XIX century Lithuanian craftsmen tools and exhibition of applied arts creations. The venue is surrounded by the unique nature of the Pavilniu Regional Park.
Working hours: 12:00 – 24:00. Capacity: 2000. Halls: 12. Ballrooms: 10. Capacity outside - 700
---
" FOREST" - grill dishes and salads
Address:  Vokieciu str. 8, Vilnius
The best qualities of the food can be revealed when it is eaten in the nature, breathing the fresh air and enjoying the taste of juicy meat and crunchy vegetables. This is the guarantee for a good mood and wonderful atmosphere.
From now on there is a perfect possibility to experience this at any time of year, any day of the week. We invite you to visit a new grill and salad restaurants "Forest".
Here you will find a number of dishes which are created following the seasonality. This exceptional menu is prepared according to the "slow food "and "all from nature "principles.
Working hours: Mon- Thu 11:00 - 00:00, Fri – 11:00 - 02:00 Sat – 12:00 – 02:00, Sun 12:00  - 00:00. Capacity: 120
---