Attractions
Book here
Photo gallery
Corporate party in sailing ships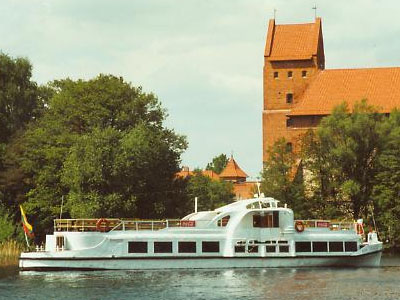 Do you want to feel a warm breeze, enjoy stunning view of Vilnius or Trakai, and hear soothing waves?
Well, we have a great deal for you! Held your corporate party on water in sailing ships "Riga" in Vilnius, or "Skaistis" in Trakai.
You will be surrounded by wonderful views of nature, soothed by the river Neris or lake Galve water.
You don't need to carry about the food, leave this for us.
All needed equipment for the party can be rent also :
( sound system 22 EUR, TV for the slides show 33 EUR)
Rent of sailing ship ( 1h) :
550 EUR/ per h/ group
Food & Drinks: 30 EUR per /person
Minimum number of participants: 10
P.S. On your request sailing ships can be rent more than 1 hour.
Package price for one person - 87 EUR  
Package includes:
Ship sailing rent for 1 hour
Food & Drinks
Package excluded:
Equipment rent
 Offer valid from 1st of May
Book here
87€

Offer valid from 1st of May


Package price for one person - 87 EUR

Minimum number of participants: 10